the to all the boys i've loved before series book annotating gift set (all books included)
1 set left in stock
Regular price
$131.00 AUD
Regular price
Sale price
$131.00 AUD
Unit price
per
Sale
Sold out
our all-inclusive book annotating sets have everything you need to annotate each book whether you're an annotating newbie or an old pro. these sets are the perfect gift for the book lover in your life (even if that book lover is you), secret santas, gift exchanges, and more!
this set is for the to all the boys i've loved before series and includes a full annotating set for the following 3 books, all in paperback: to all the boys i've loved before, p.s. i still love you, and always and forever, lara jean
you can find our gift sets for classics, contemporary romance, fantasy, and thriller books here.
in an effort to provide pricing that is accessible as possible, the books included in this set are included at cost to compensate for the higher shipping costs associated.
recommended add-ons:
sticker tweezers (an automatic discount will apply in cart once you add a giftset and a pair of sticker tweezers to your order)
each set has a limited supply (shown when you select the gift set you want above) so once they're gone, they're gone!
shipping:
these sets are sent by tracked package only to ensure fast & predictable delivery. current shipping estimates for canada, usa, and international will be sent to you in your shipping confirmation email but if there are any concerns regarding delivery, we advise to place your order sooner rather than later!
note: we highly recommend using sticker tweezers when using our stickers given how small they are compared to most fingers! they can be included as an add-on here or purchased elsewhere from most major retailers.
share
sticker sheet quantities

flags: 64/sheet (8/color) & comes with "color key" (8 circle stickers, 1 of each color)

quads: 48/sheet (6/color) & comes with "color key" (8 circle stickers, 1 of each color)

foil flags: 30/sheet

foil quads: 20/sheet

emojis: 64-100/sheet

text: varies based on word/phrase length

micro stars/hearts: 50/sheet
materials/finish

all stickers are printed on transparent semi-matte sticker paper with the exception of the annotation keys (opaque matte paper) and the foil tabs which are printed on foil sticker paper.


can be used on most surfaces

not waterproof

*please note: colours may print slightly different than they are shown on screen
sticker & sheet dimensions

flag stickers: .25" x .40"

quadrant stickers: .37" x .37"

emoji stickers ~.25" x ~.25"

text stickers: varies

micro stars/hearts: .18" x .18"

arrows: varies

keys: 3.25" x 4.5"

sheet sizes: 3.25" x 4.5" and 2.24" x 3.08"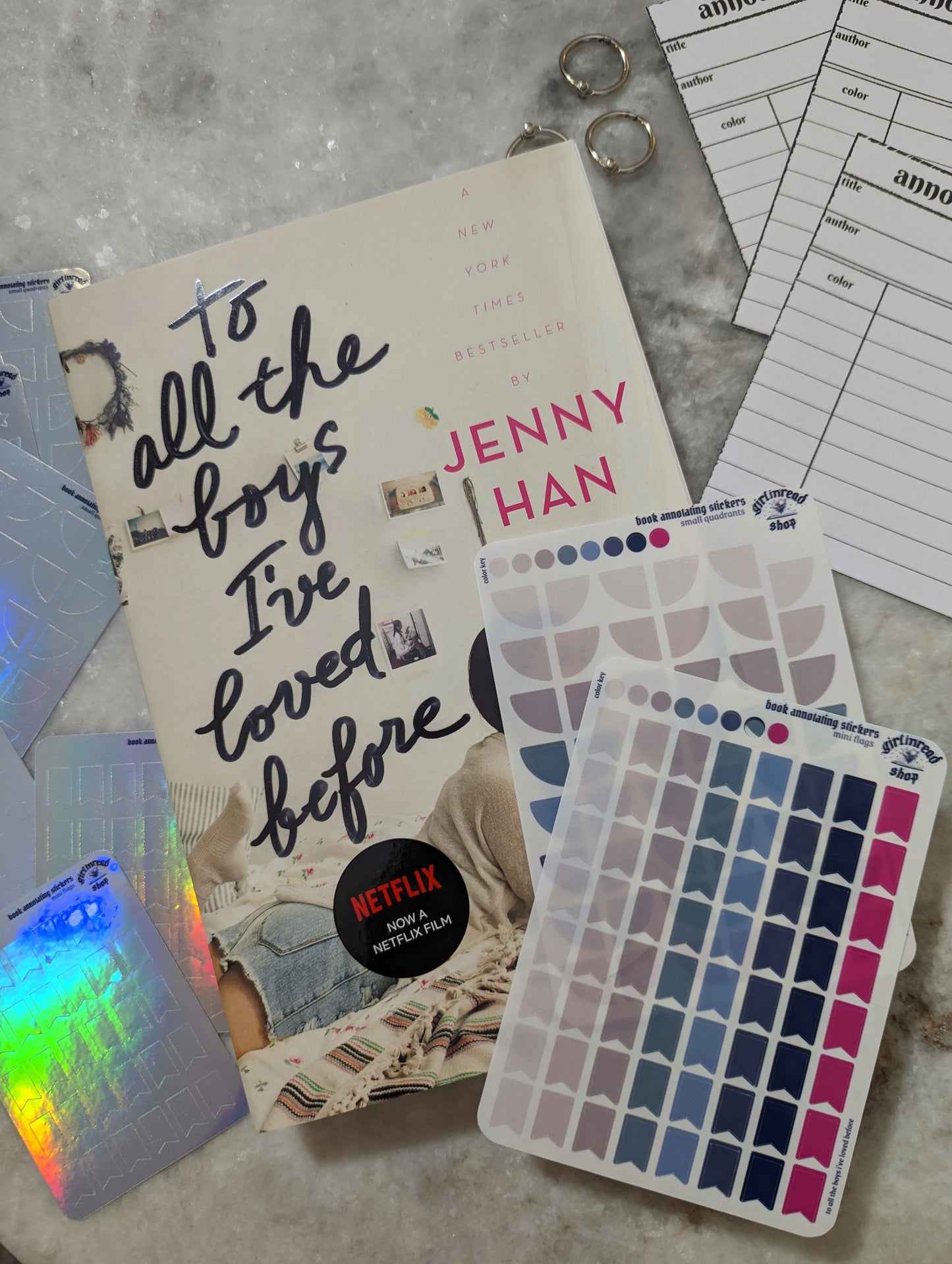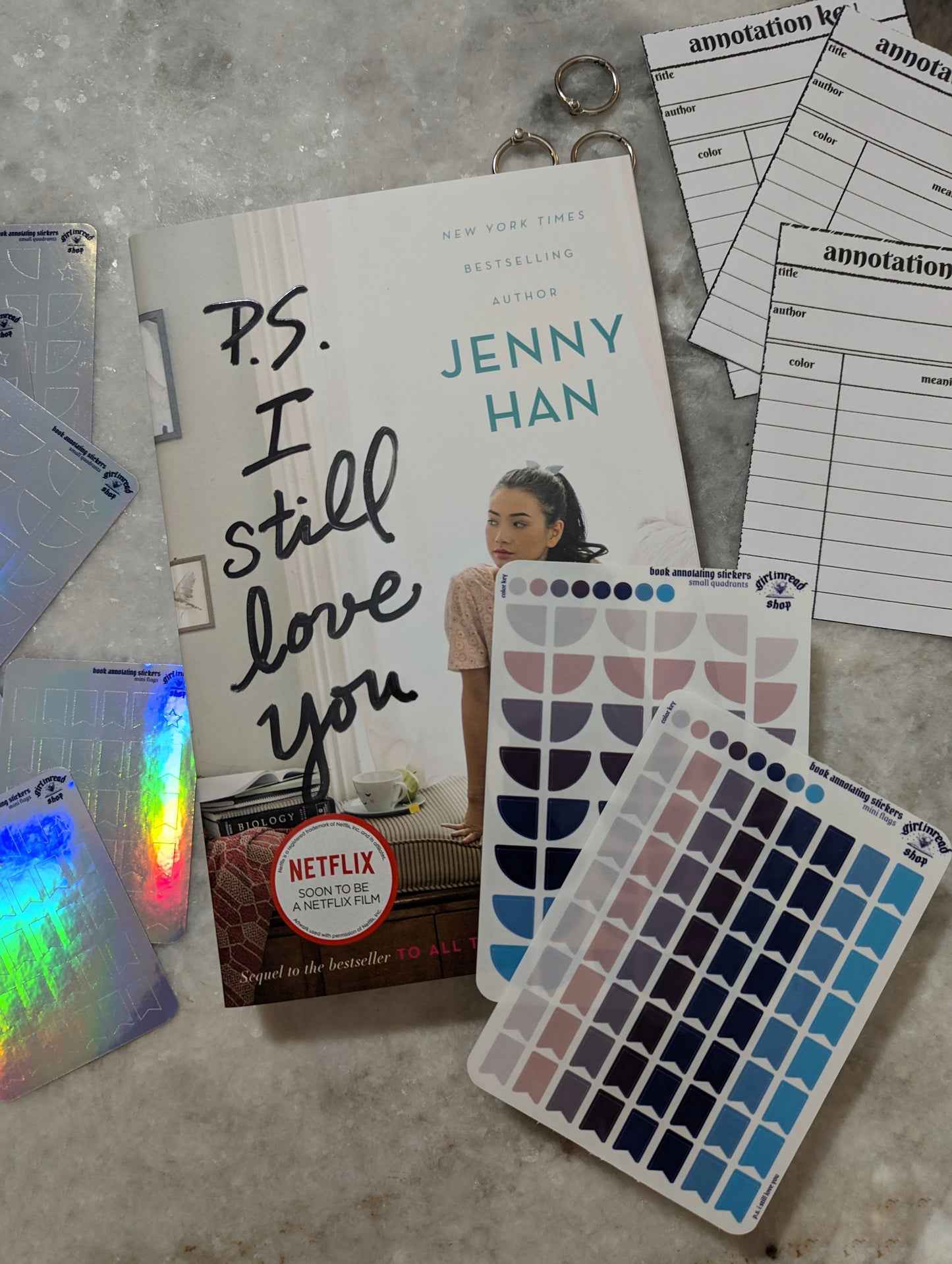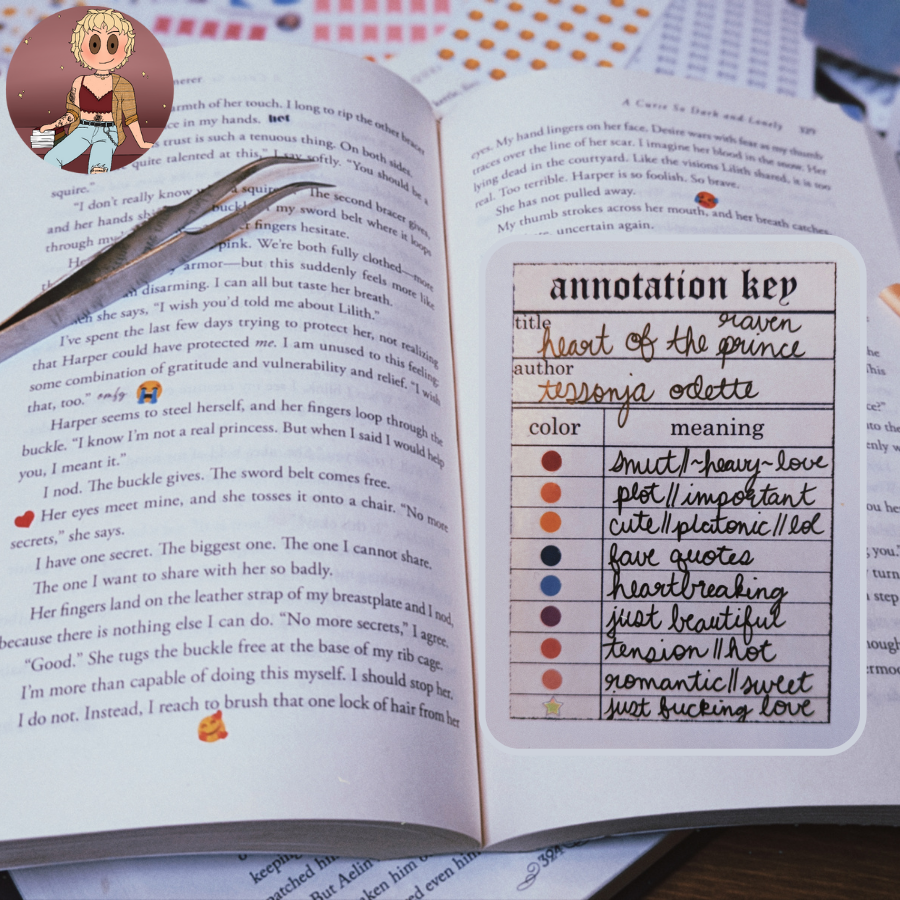 book annotating sticker guide
there is no right or wrong way to use our stickers but if you are looking for inspiration or a place to start, click the link below to see how we recommend annotating with our stickers & the color legend we use ourselves!
sticker guide