bestie book annotating sticker sets
Regular price
Sale price
$33.00 AUD
Unit price
per
Sale
Sold out
these annotating sticker kits are designed for besties to annotate a book ✨together✨


there are endless ways to organize exactly how you and your besties want to do this, but our favourite way goes a little like this:
get one or more besties to agree to annotate a book with you
choose what book you'd like everyone to annotate
everyone chooses what color they want to represent their annotations
whoever will keep the book at the end should be the last one to read & annotate it 
each bestie reads & annotated the book & then sends/gives it to the next person to do the same
this is great for:
gifts! your and your bestie(s) annotate someone's favourite book & give it to them as a sweet personalized gift
book clubs!
long distance besties!

x-games mode: each bestie chooses a book and you all annotate each of them so that at the end, each person has a copy of their fave/chosen book annotated by their besties💕
when it comes to how to purchase, we recommend the first annotater order the stickers for everyone & then include the other besties' stickers with the book when sending/giving to the next person. this ends up being the most cost-effective overall but if you and your besties prefer to order separately, we made the single bestie option to only purchase one single set at a time so that each person can place their own order and have it sent directly to them🥰
choosing your colors:
you can, of course, choose color palettes based on the book cover or each bestie's fave color. alternatively, you can choose the colors based on the power colors for each astro sign as they directly correlate to all of our monochrome palettes - see below!
aries: red
taurus: green
gemini: yellow
cancer: silver grey
leo: orange
virgo: brown
libra: pink
scorpio: black
sagittarius: purple
capricorn: grey
aquarius: blue
pisces: seafoam green/mint
NOTE: matching annotating-approved gel pens can be purchased here (you will receive an automatic discount if a bestie annotating kit is in your cart)
details:
all stickers are printed on transparent semi-matte sticker paper with the exception of the annotation keys & bookplates (opaque matte paper)
sheet sizes vary (see photos)
note: we highly recommend using sticker tweezers when using our stickers given how small they are compared to most fingers! you can find them in the shop under accessories🥰
share
sticker sheet quantities

flags: 64/sheet (8/color) & comes with "color key" (8 circle stickers, 1 of each color)

quads: 48/sheet (6/color) & comes with "color key" (8 circle stickers, 1 of each color)

special flags: 30/sheet

special quads: 20/sheet

emojis: 81-101/sheet

text: varies based on word/phrase length

micro star/heart combo: 50/sheet - this combo is not available for sale elsewhere in the shop but you can see the full sheets of each the hearts & starshere for reference!

for annotation key pictures - see here for reference
materials/finish




can be used on most surfaces

not waterproof

*please note: colours may print slightly different than they are shown on screen
sticker & sheet dimensions

flag stickers: .25" x .40"

quadrant stickers: .37" x .37"

emoji stickers ~.25" x ~.25"

text stickers: varies

micro stars/hearts: .18" x .18"

sheets & keys: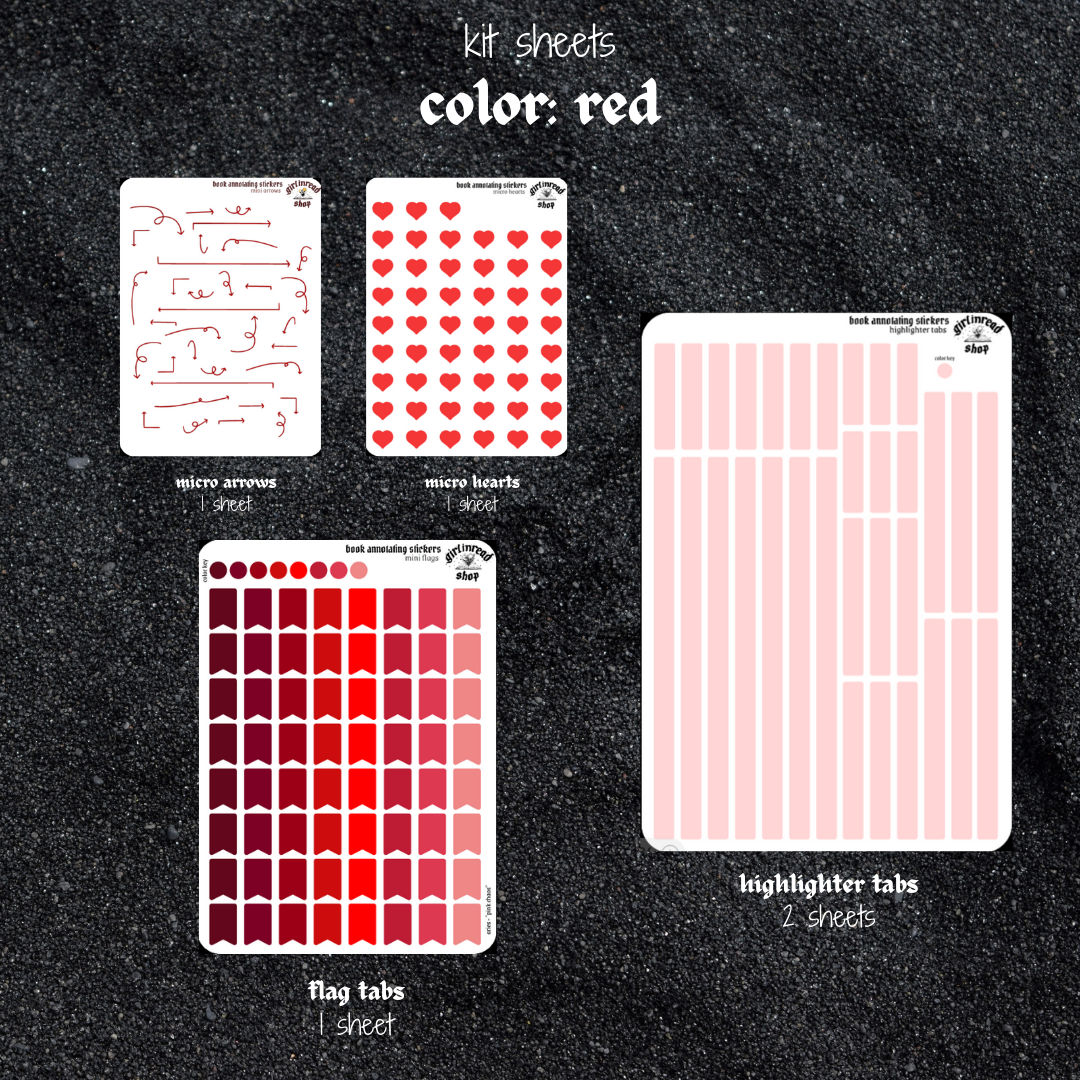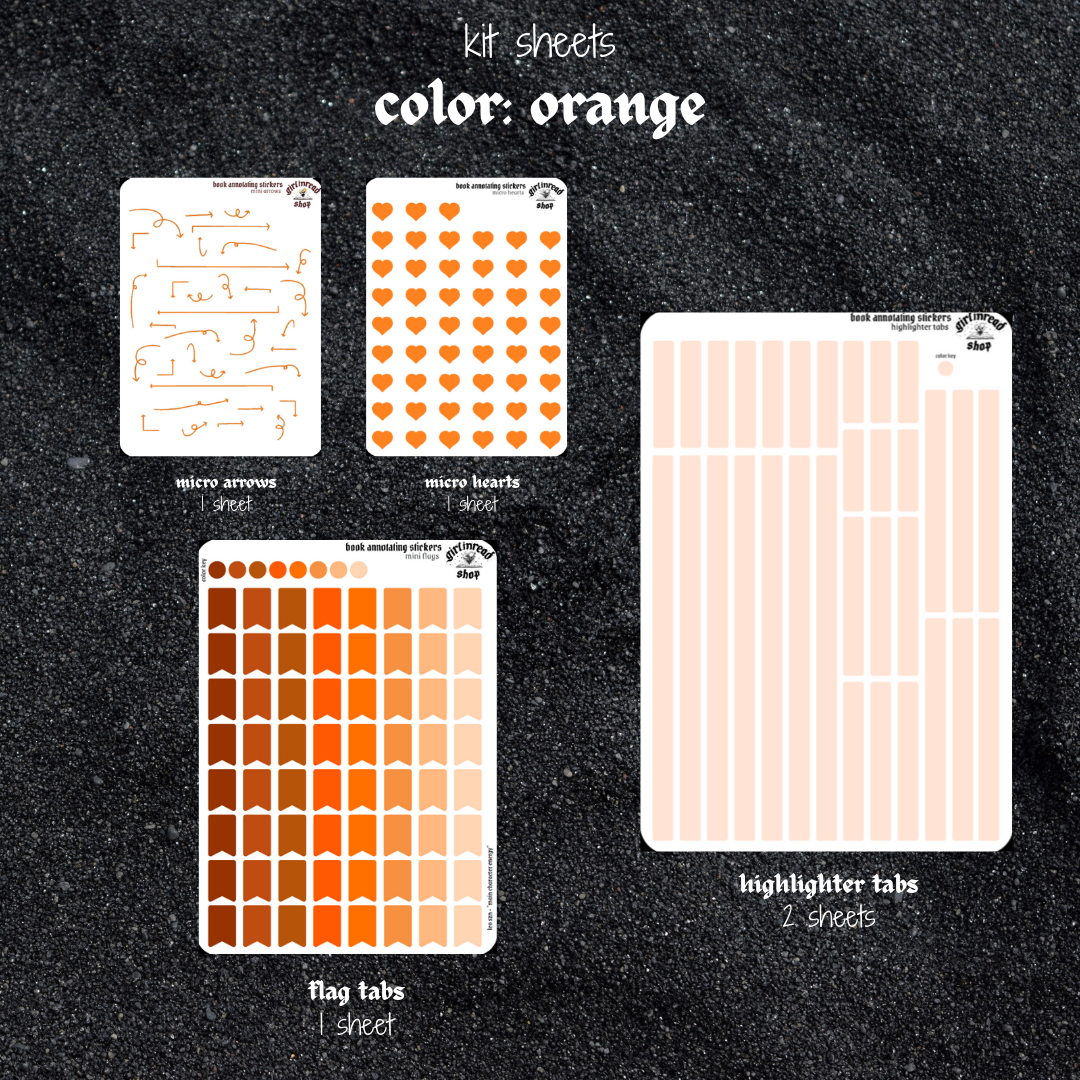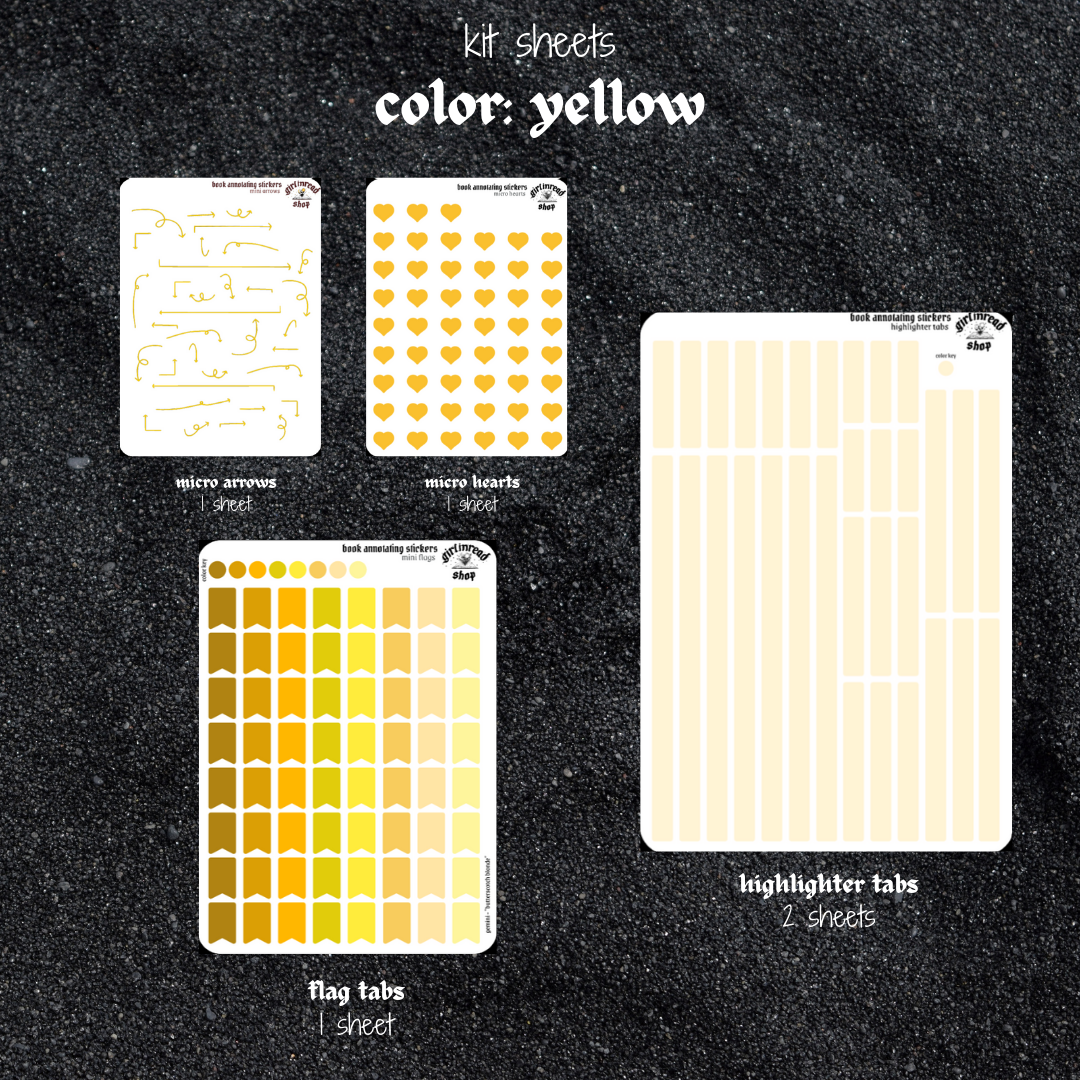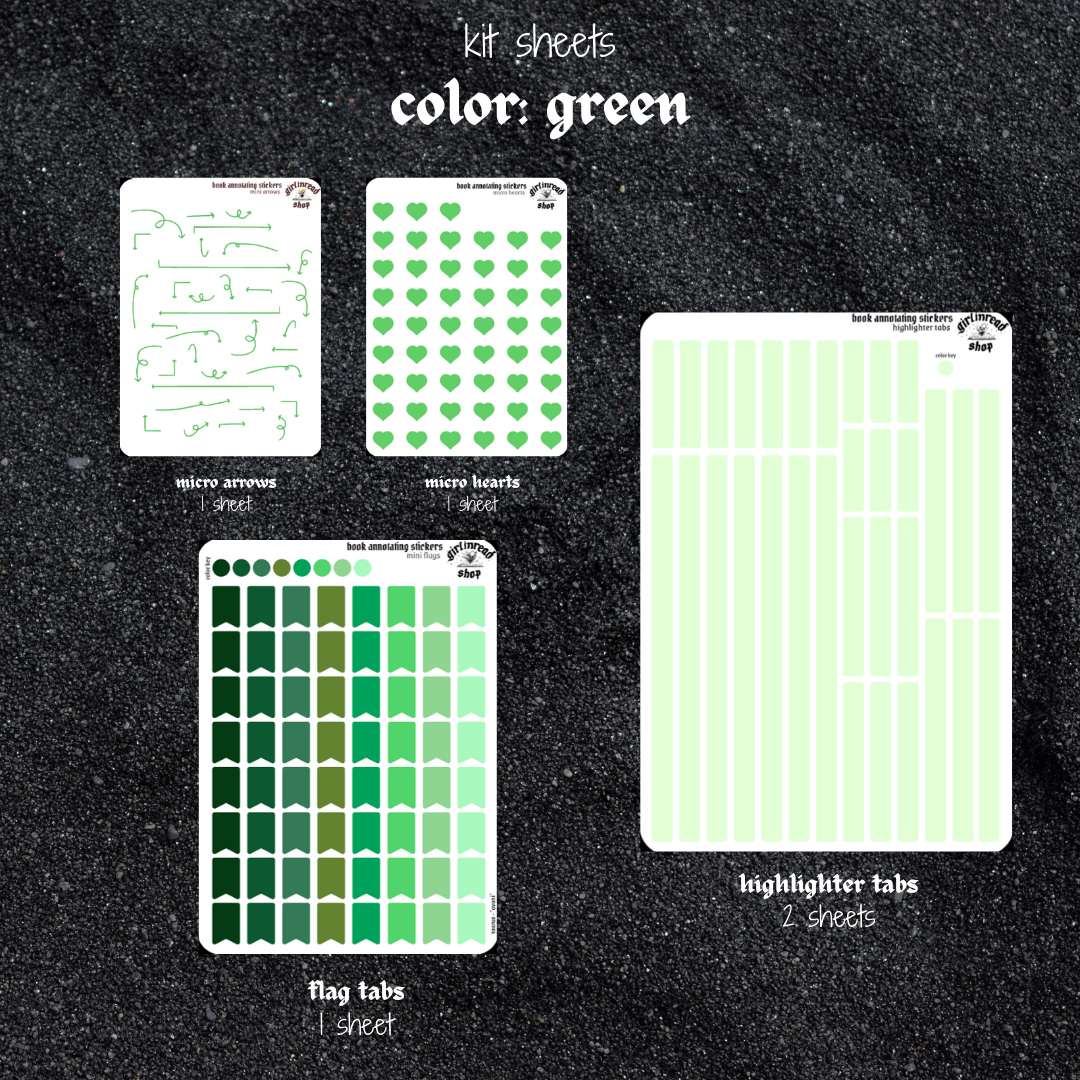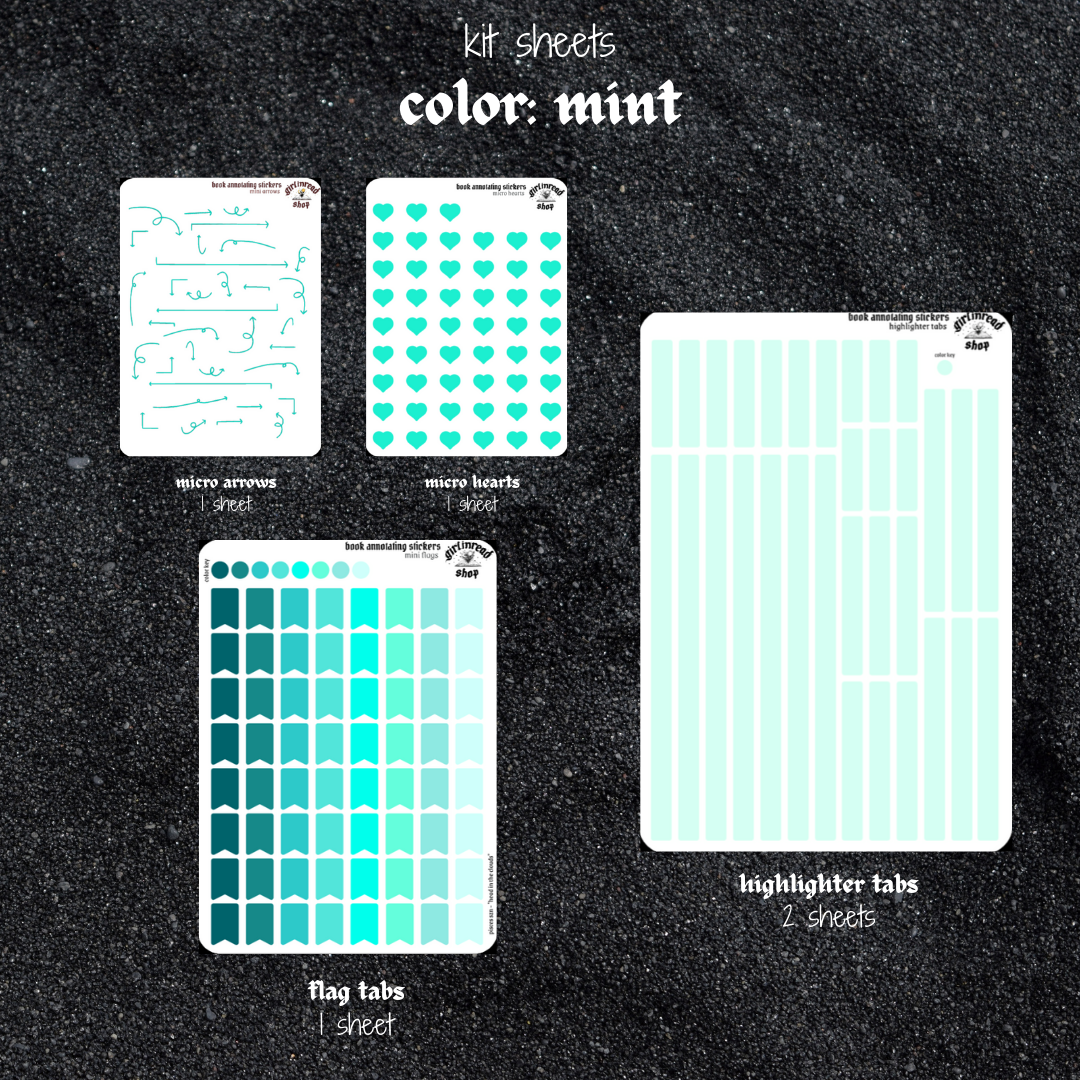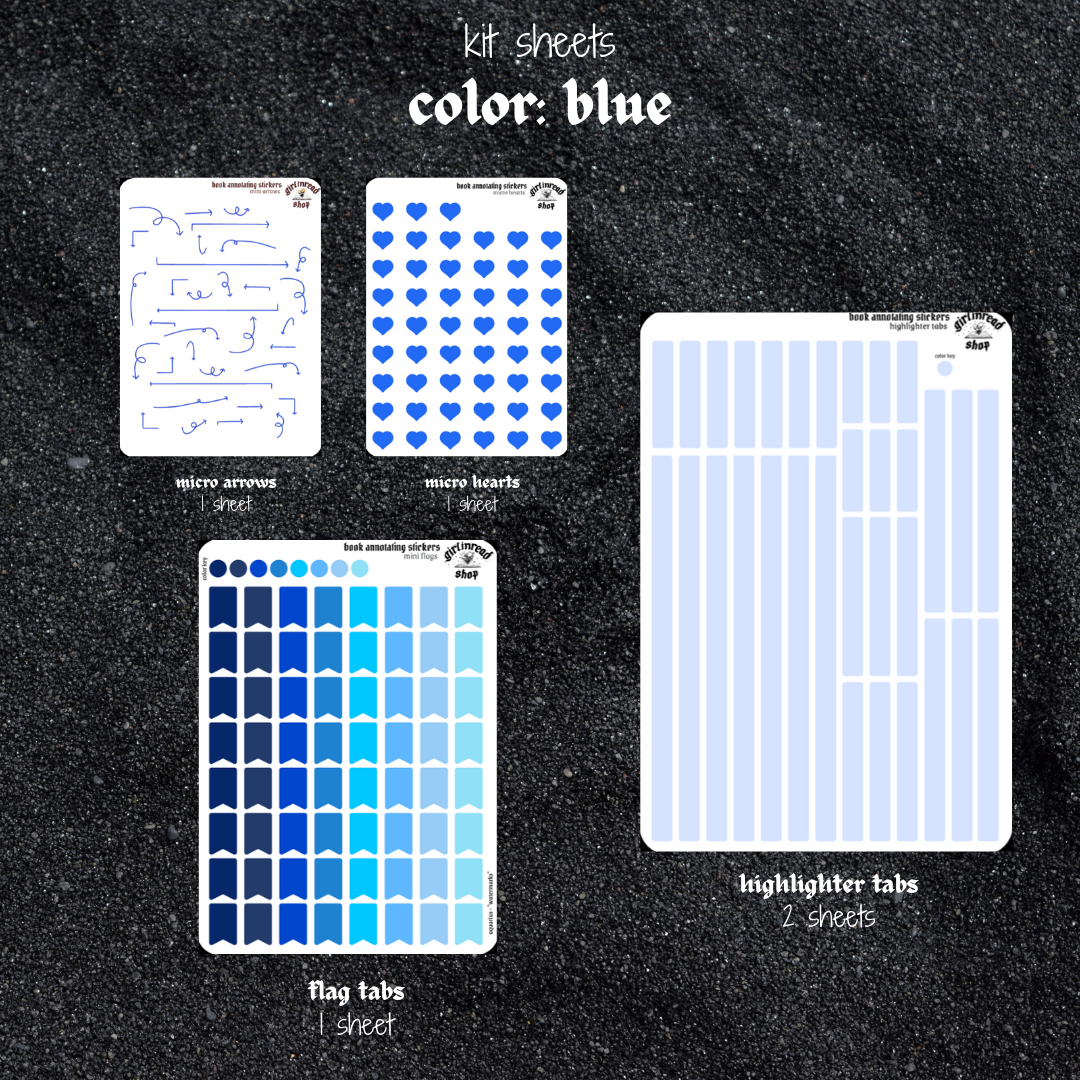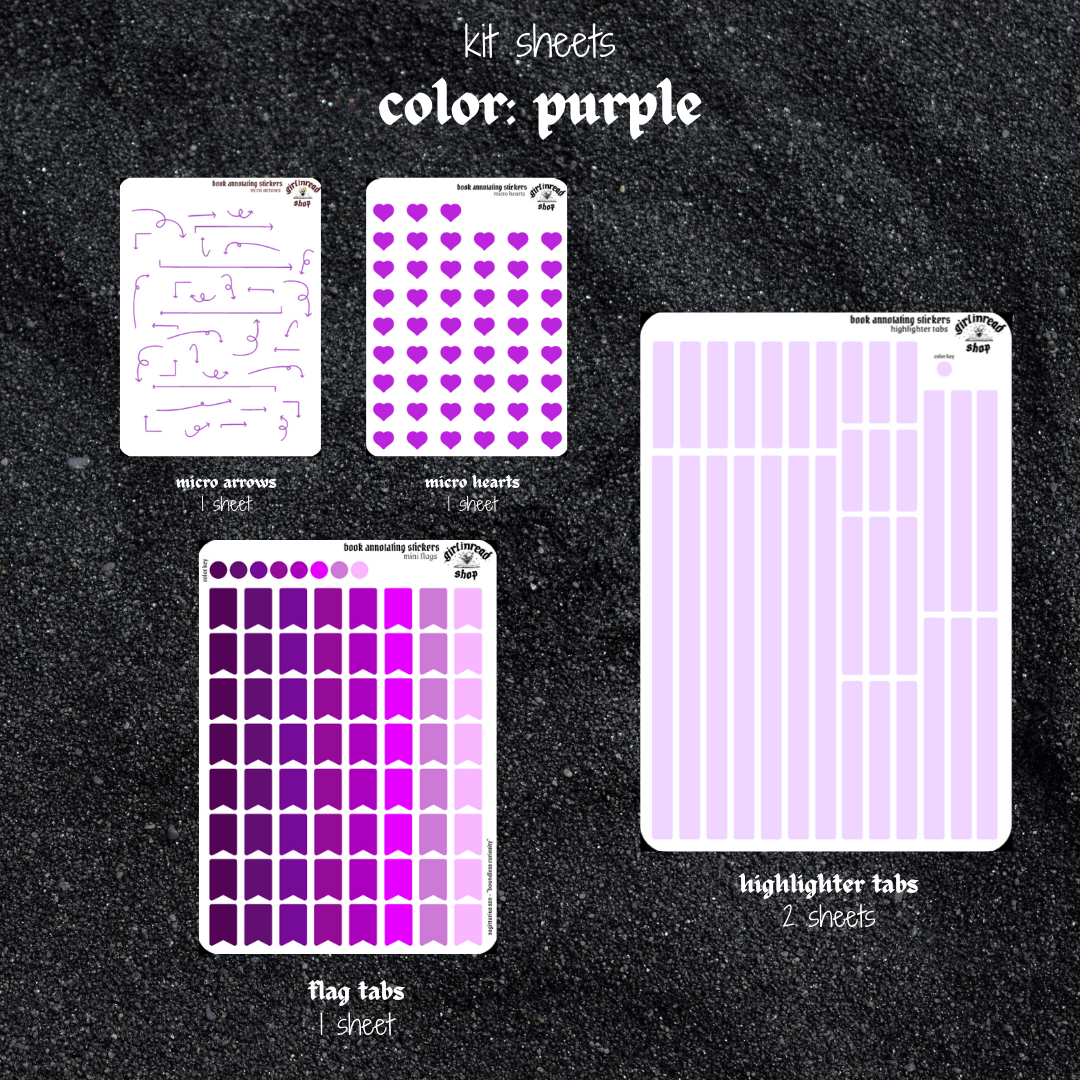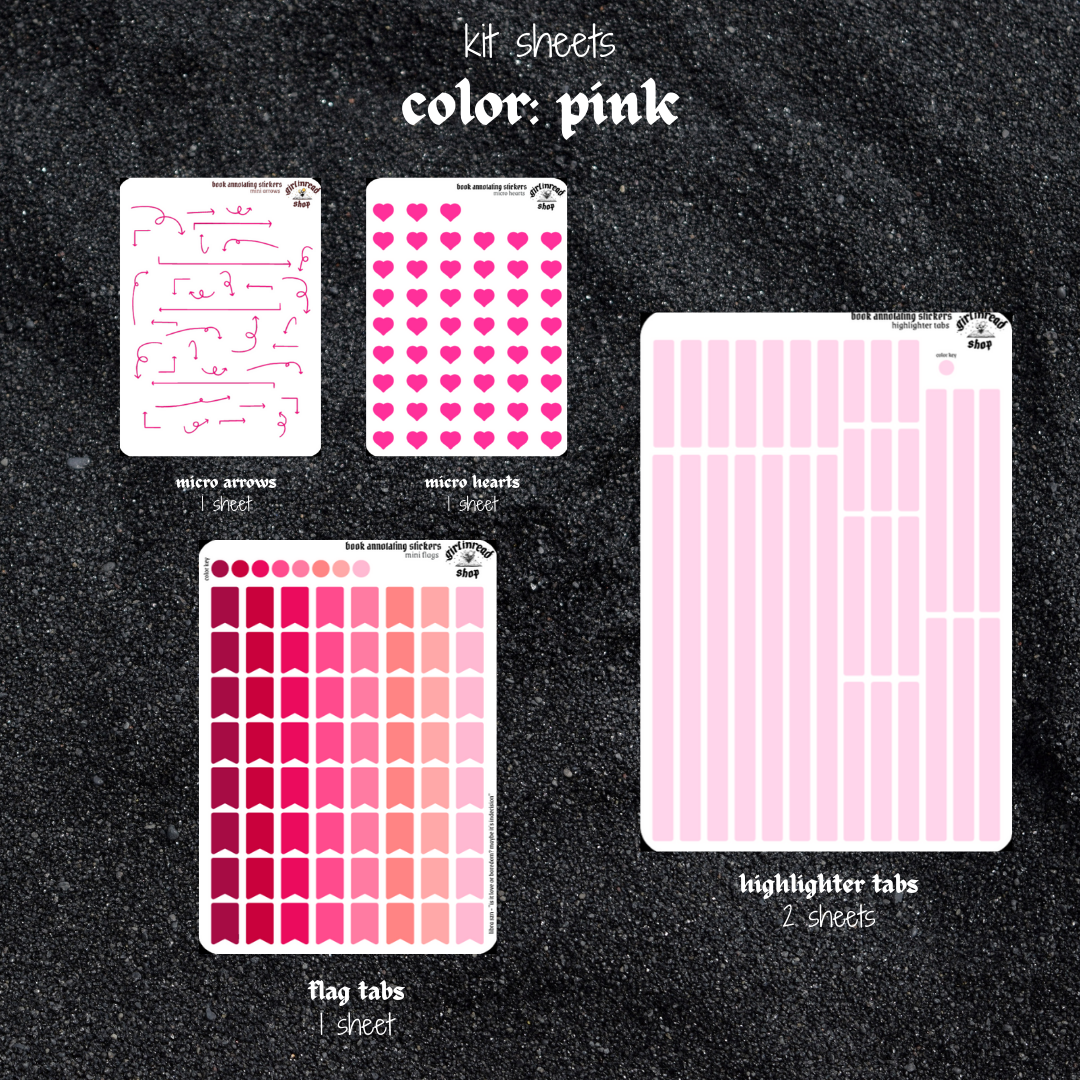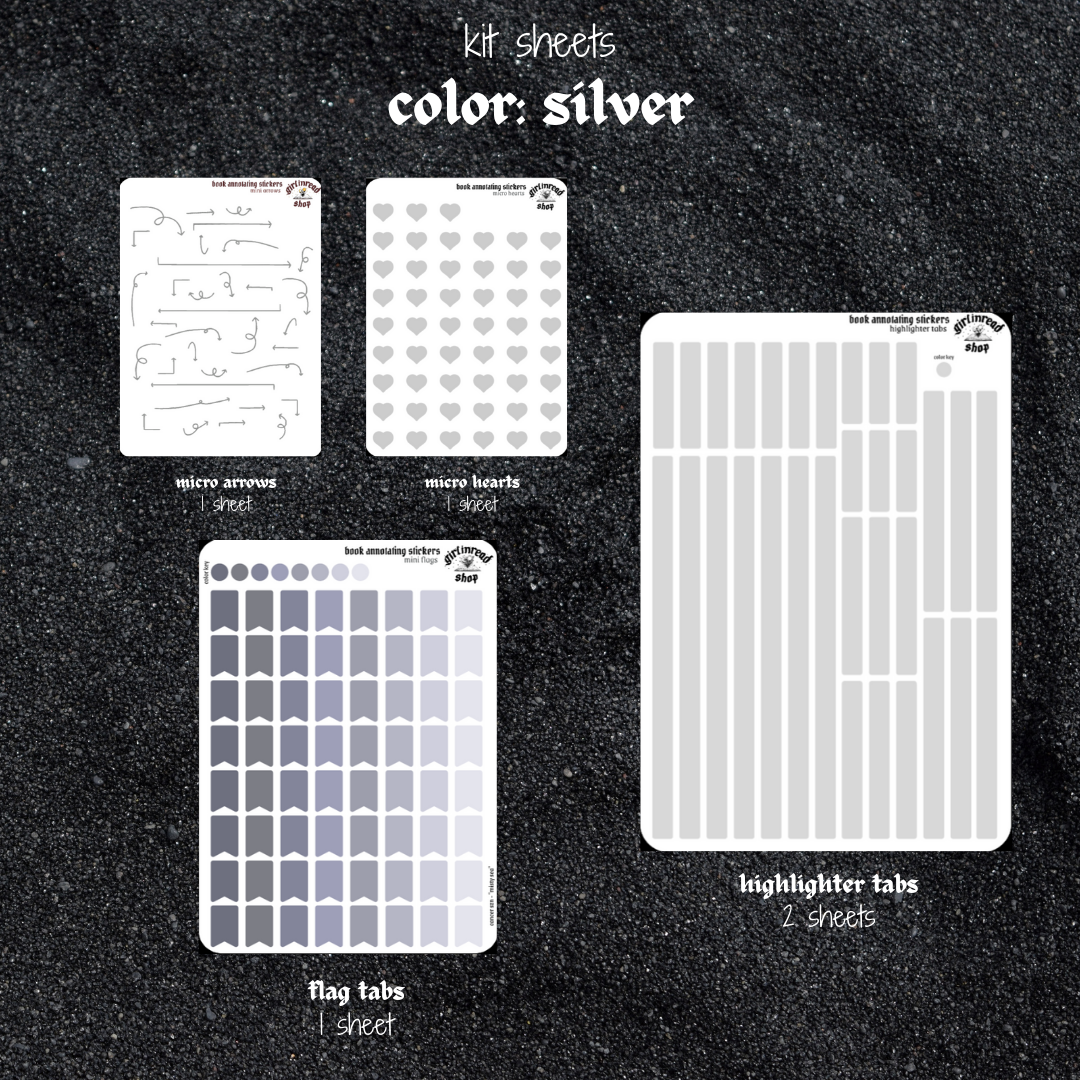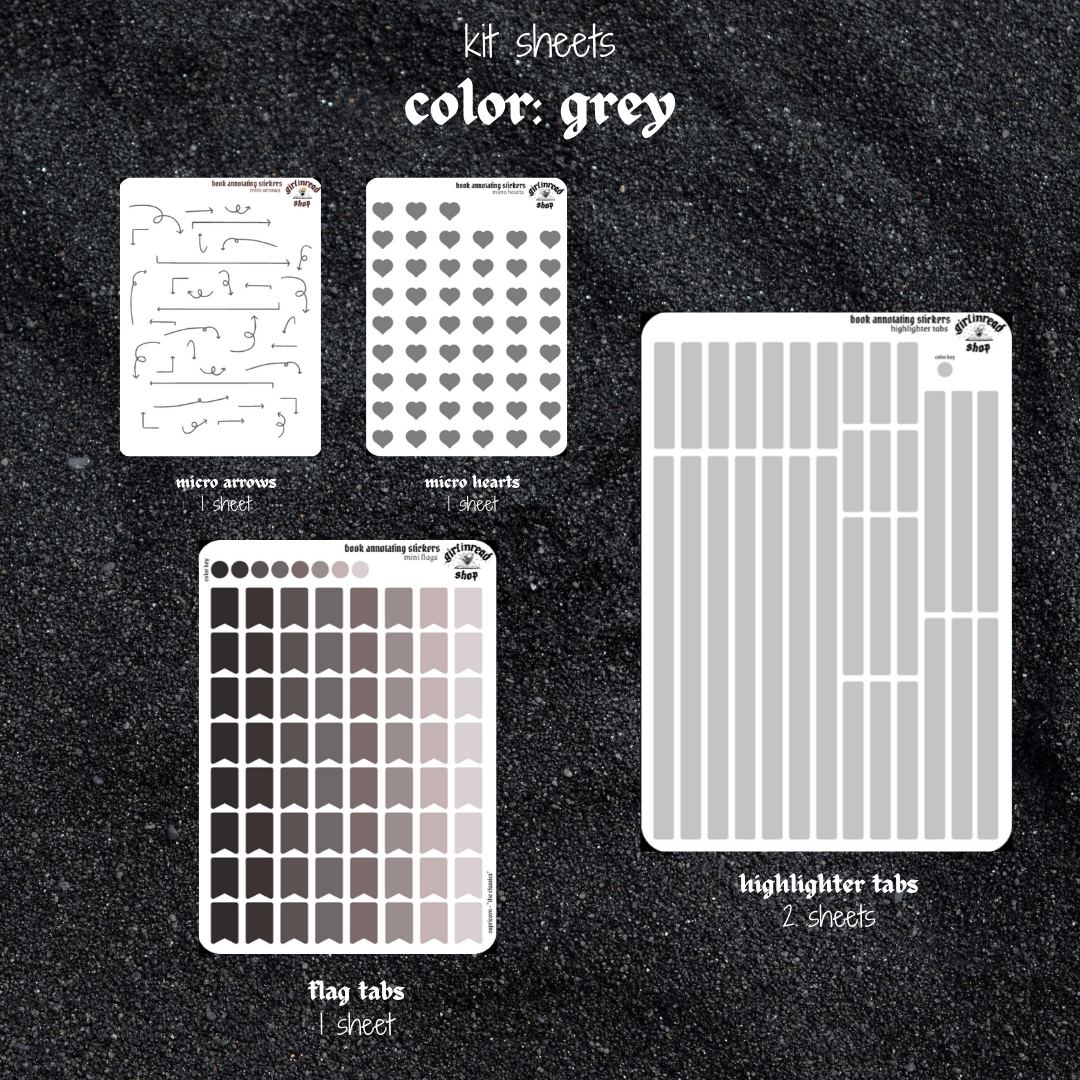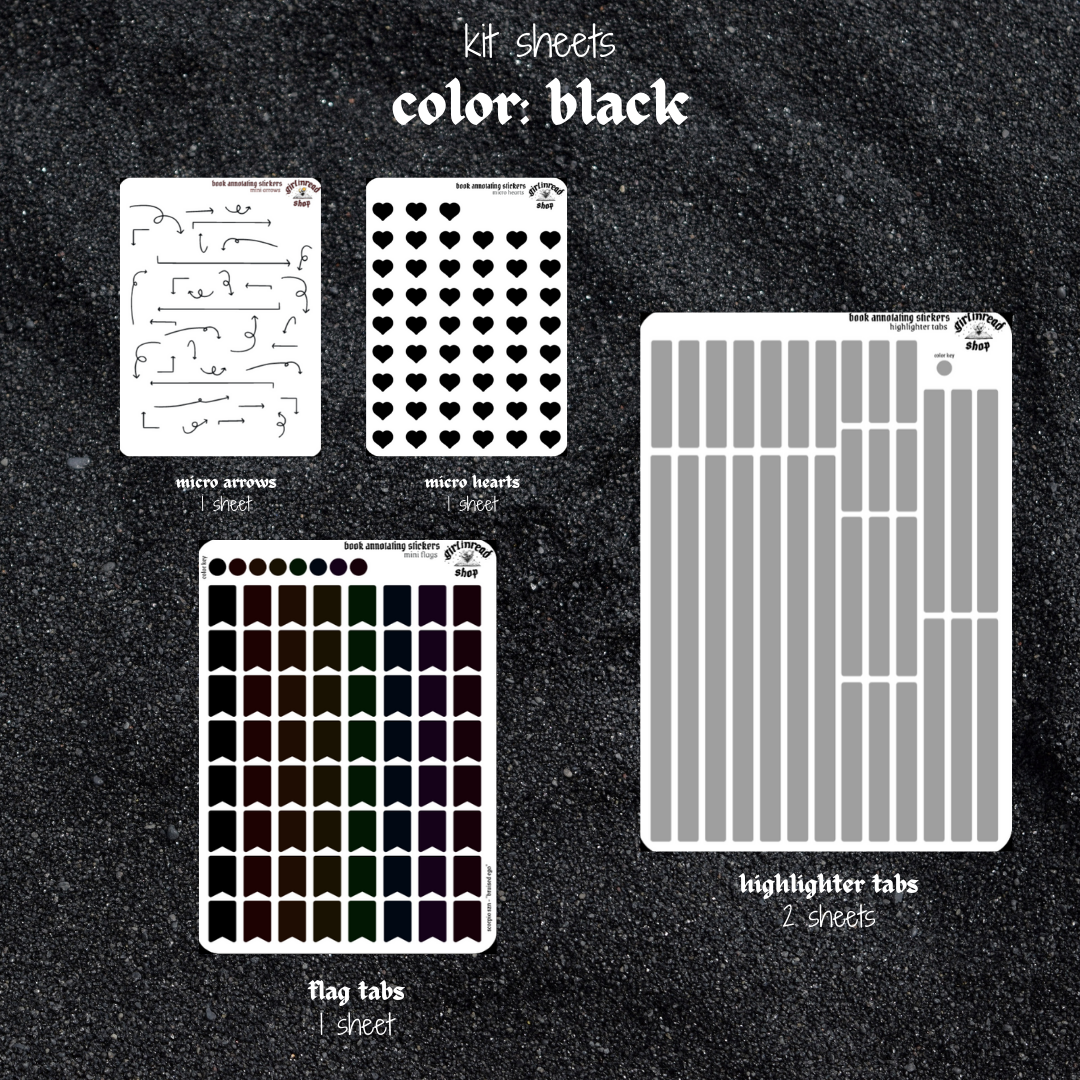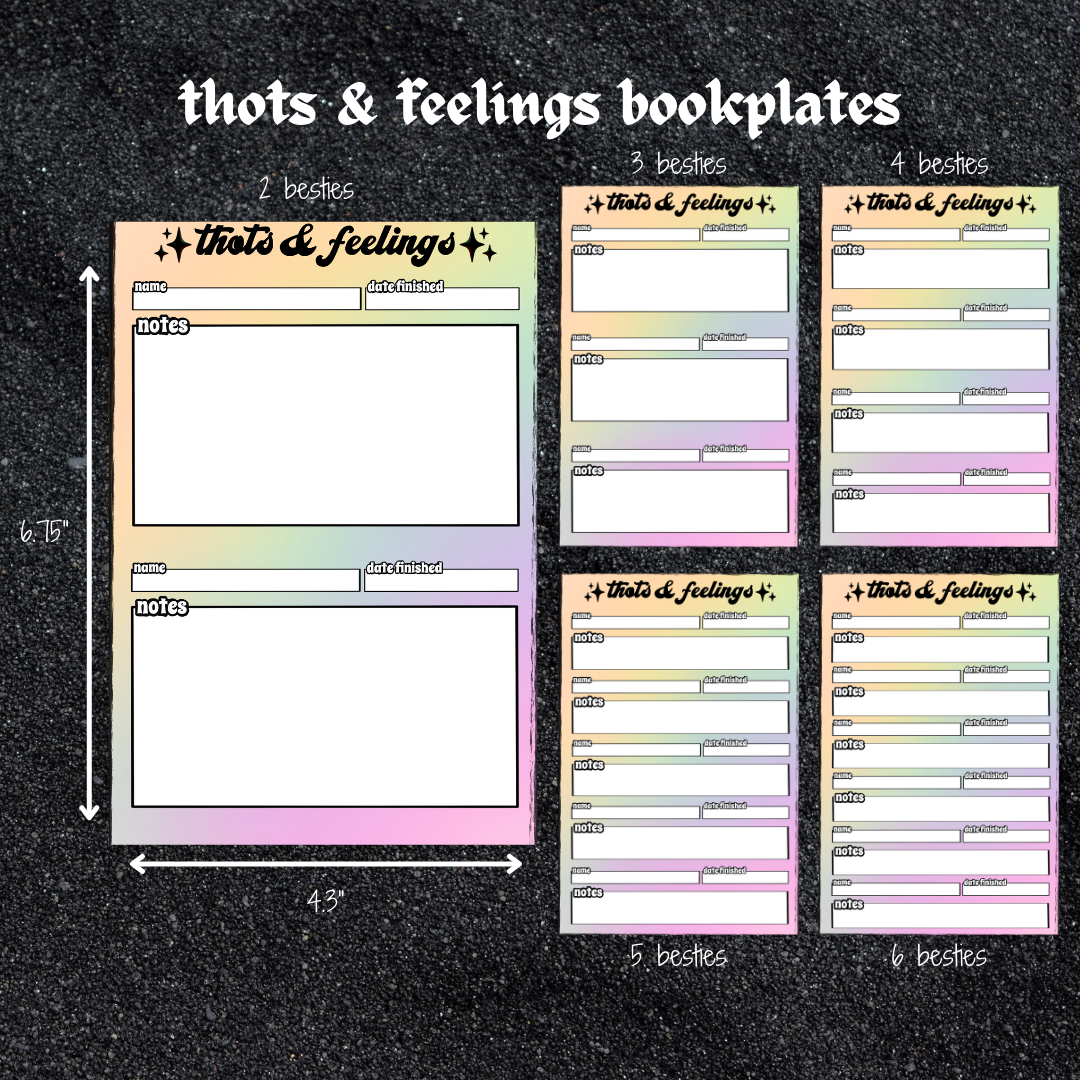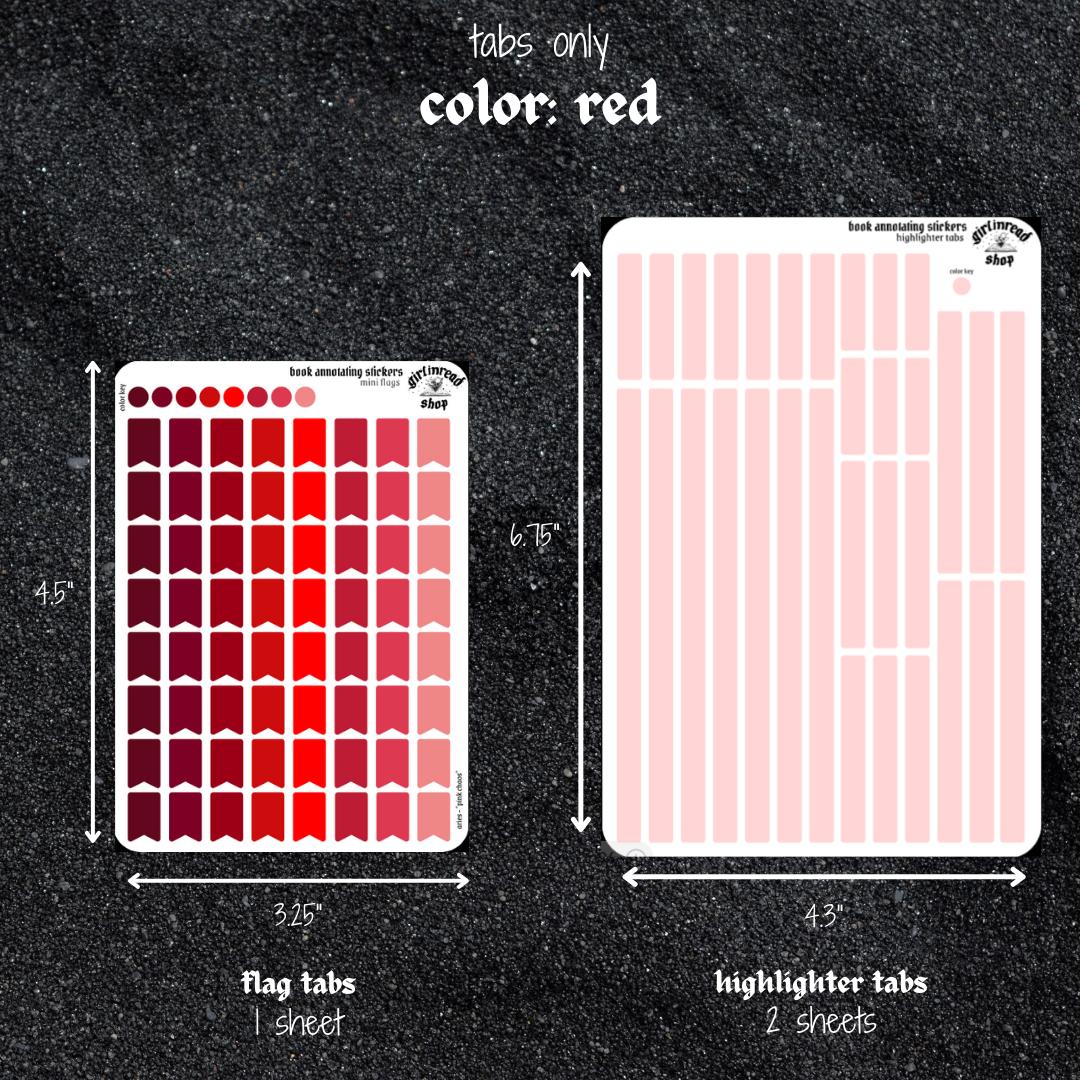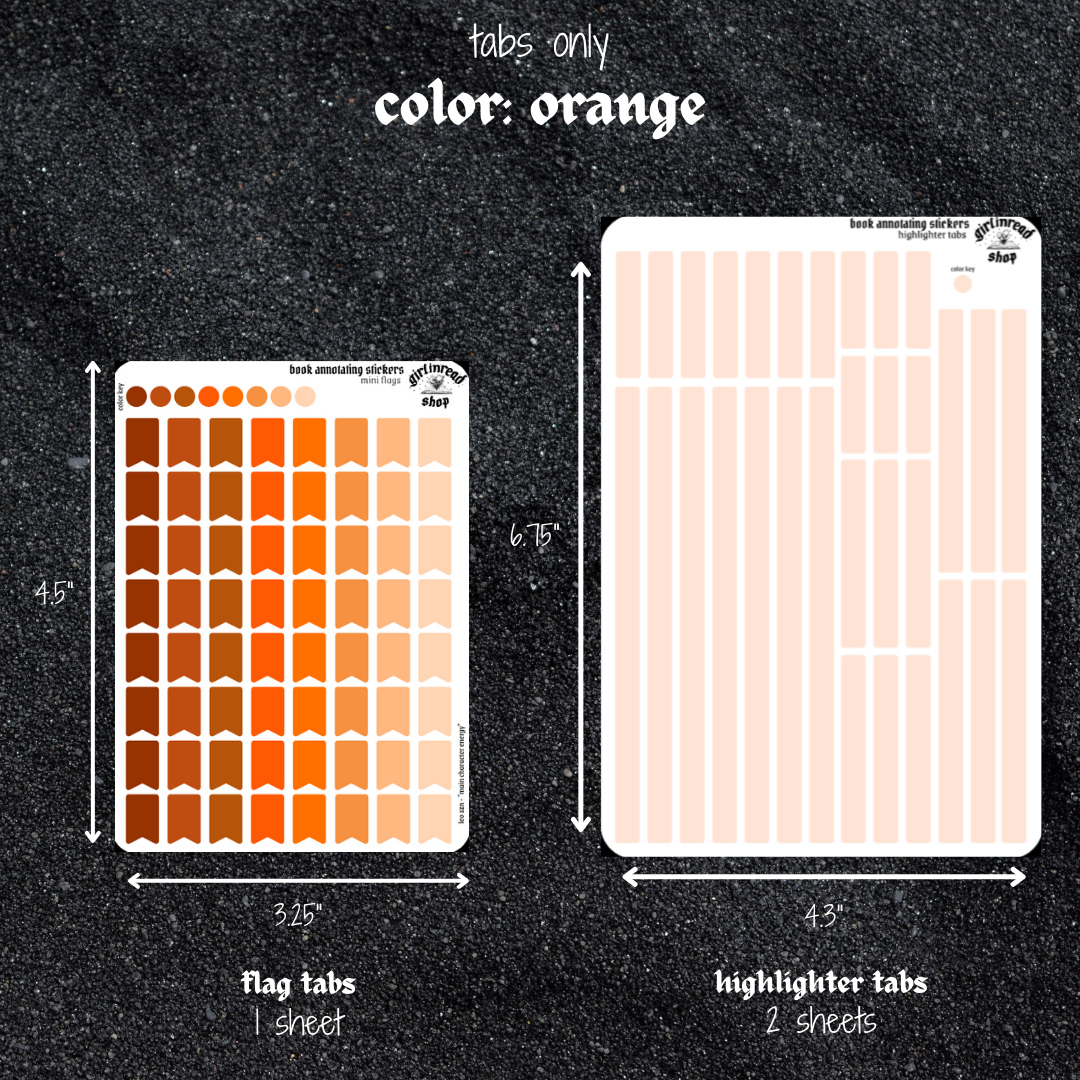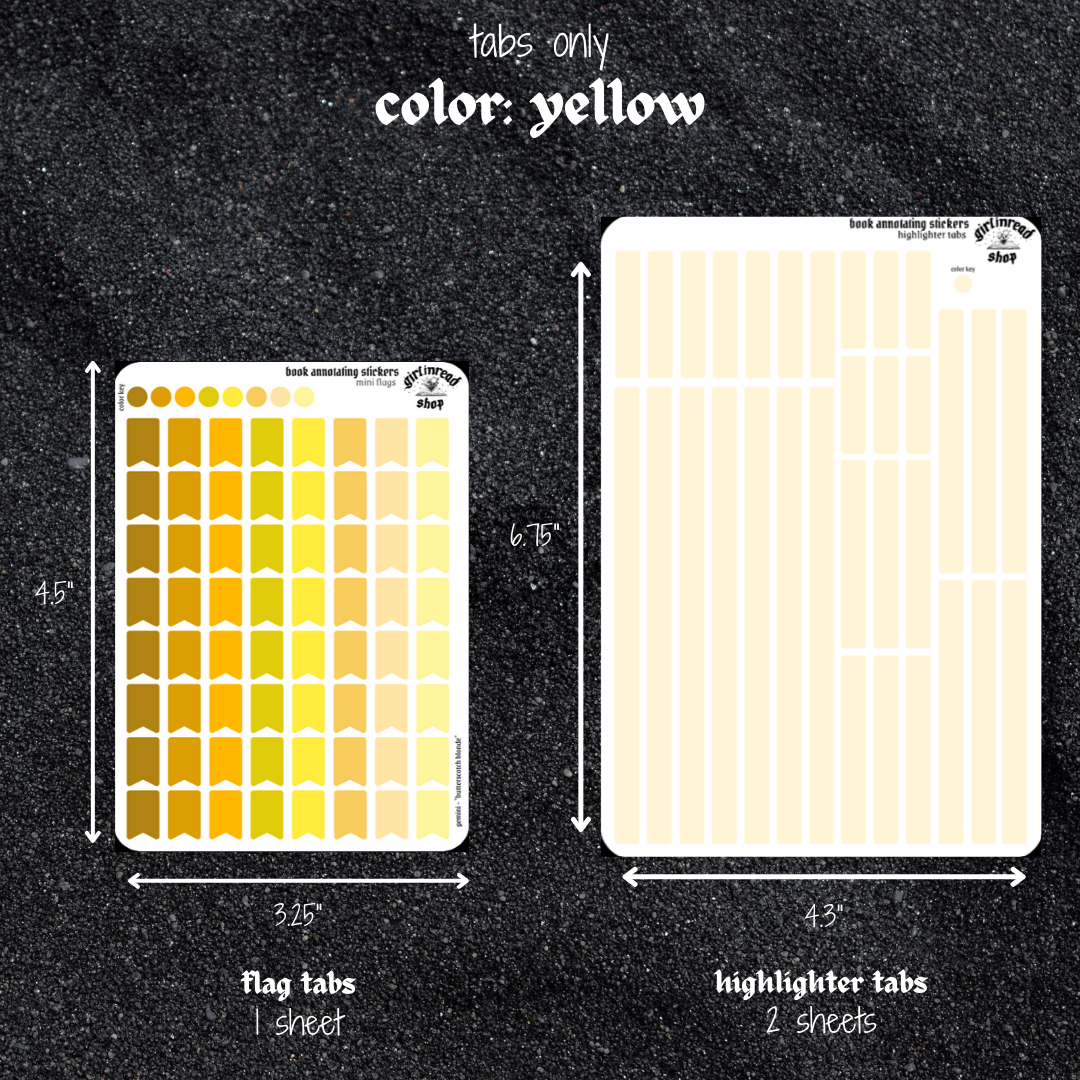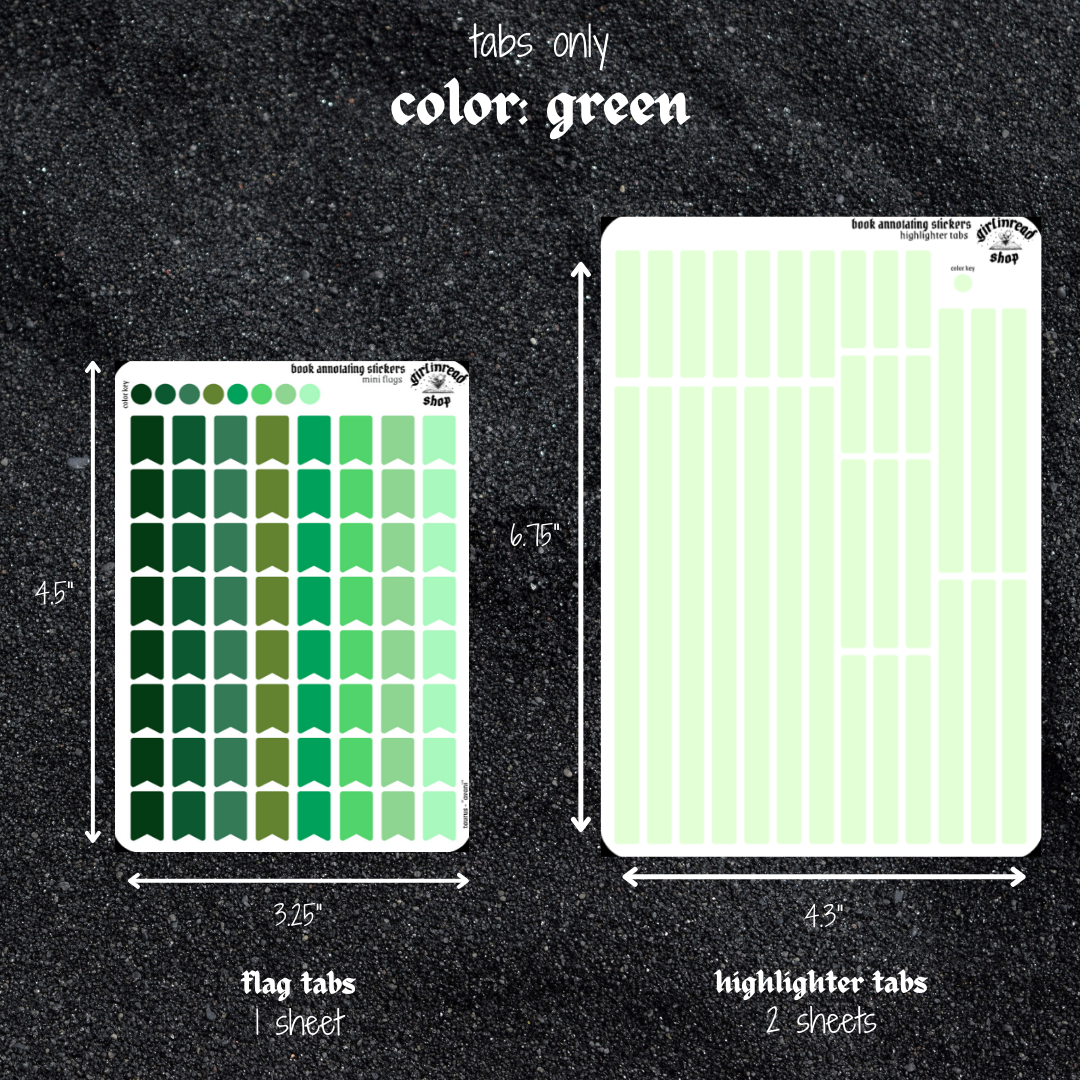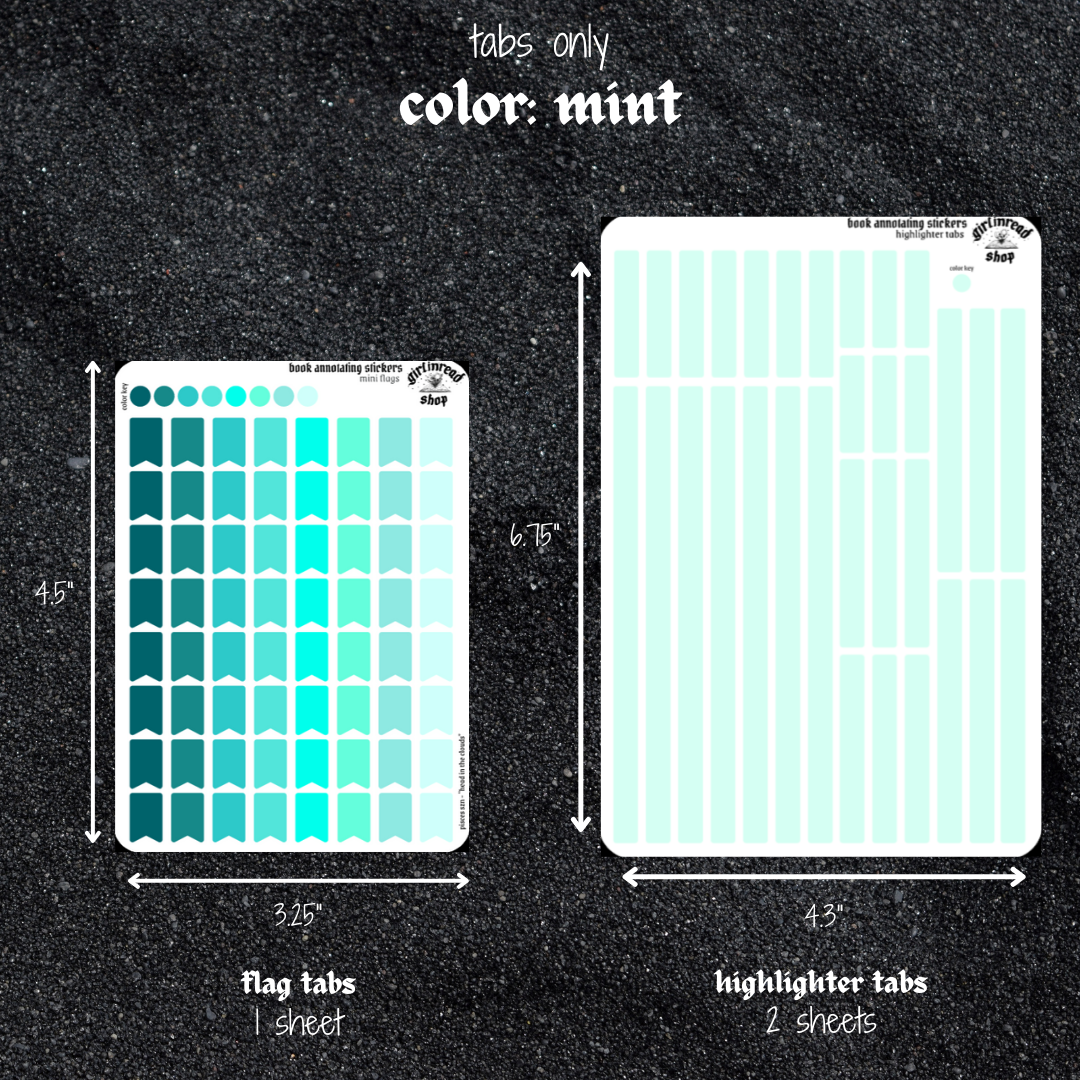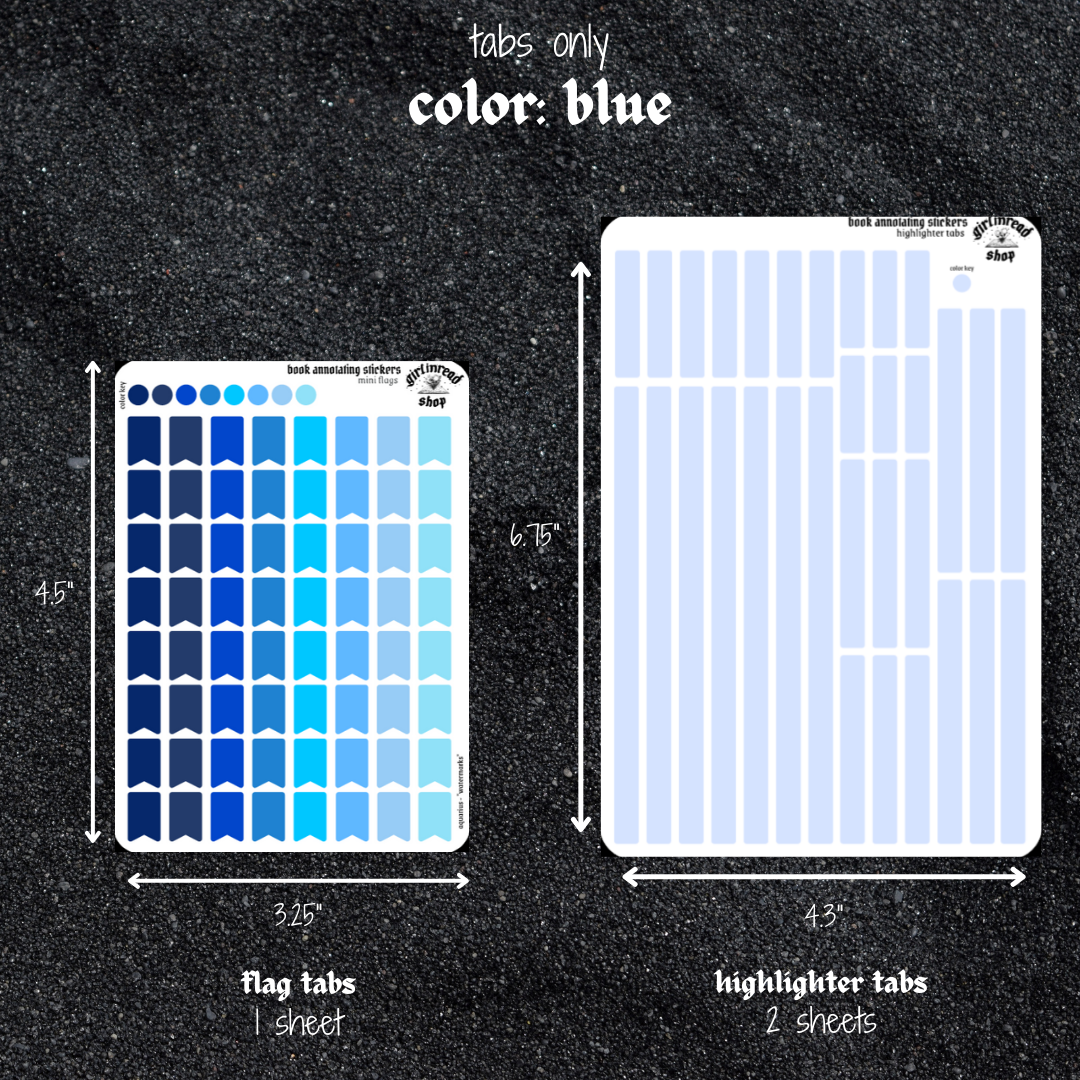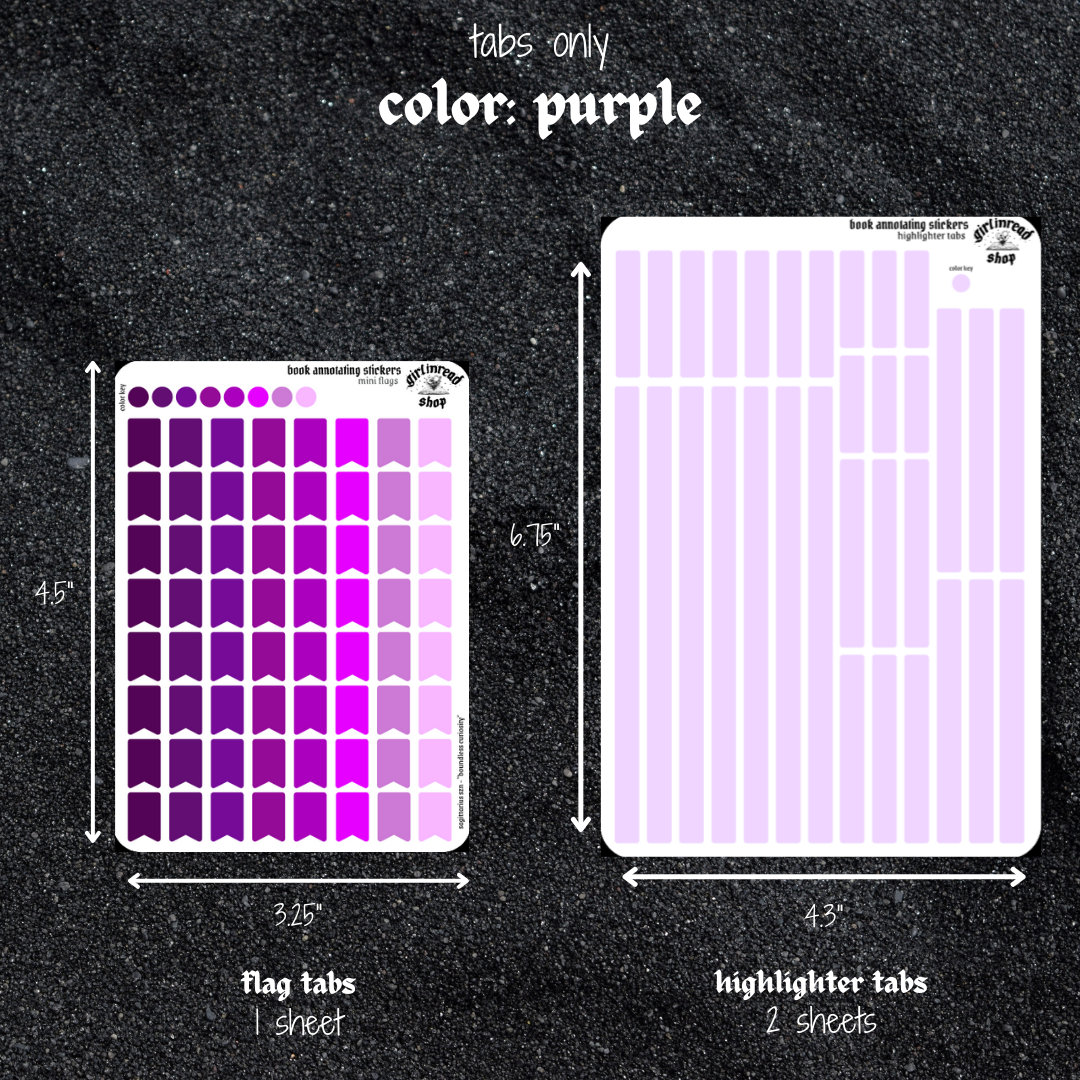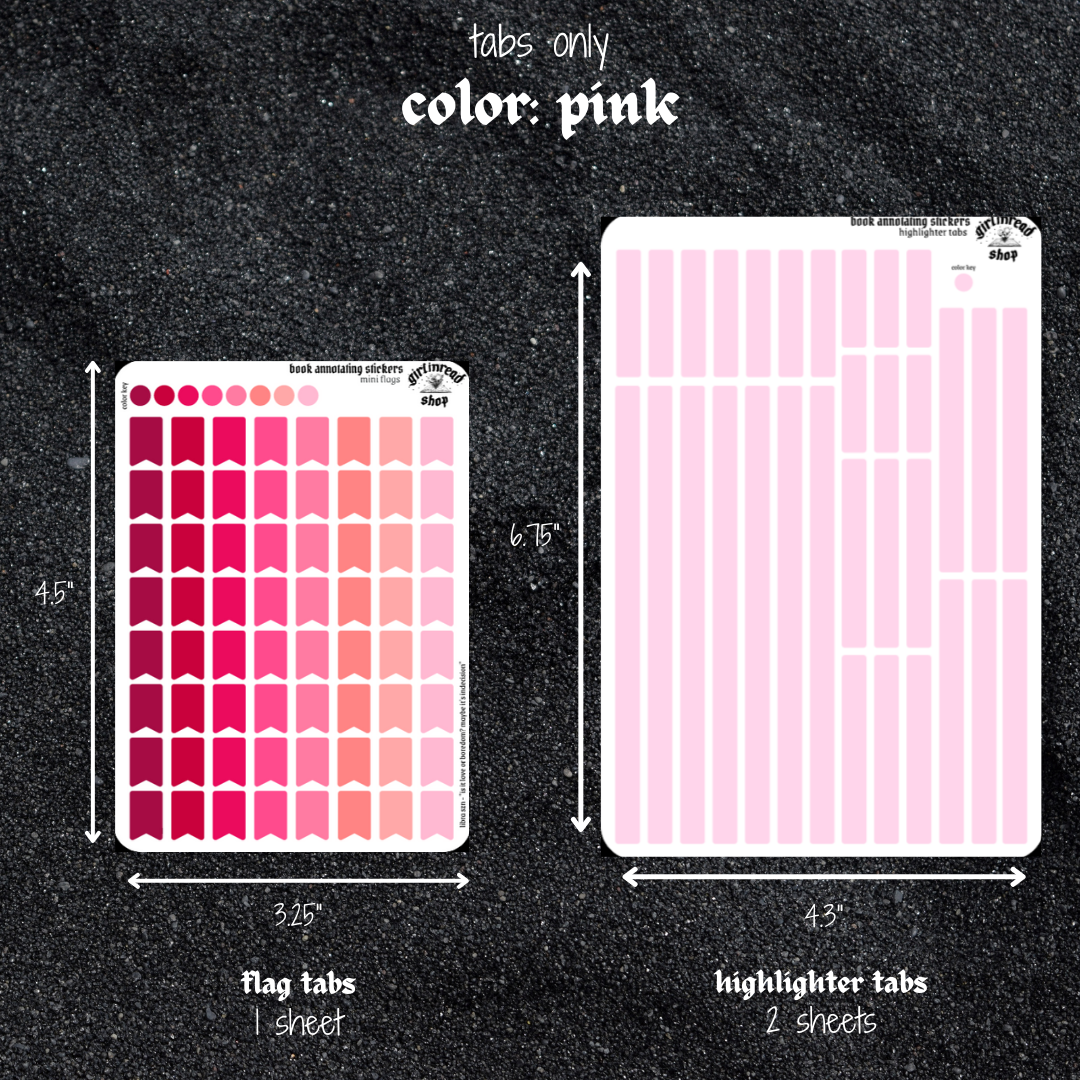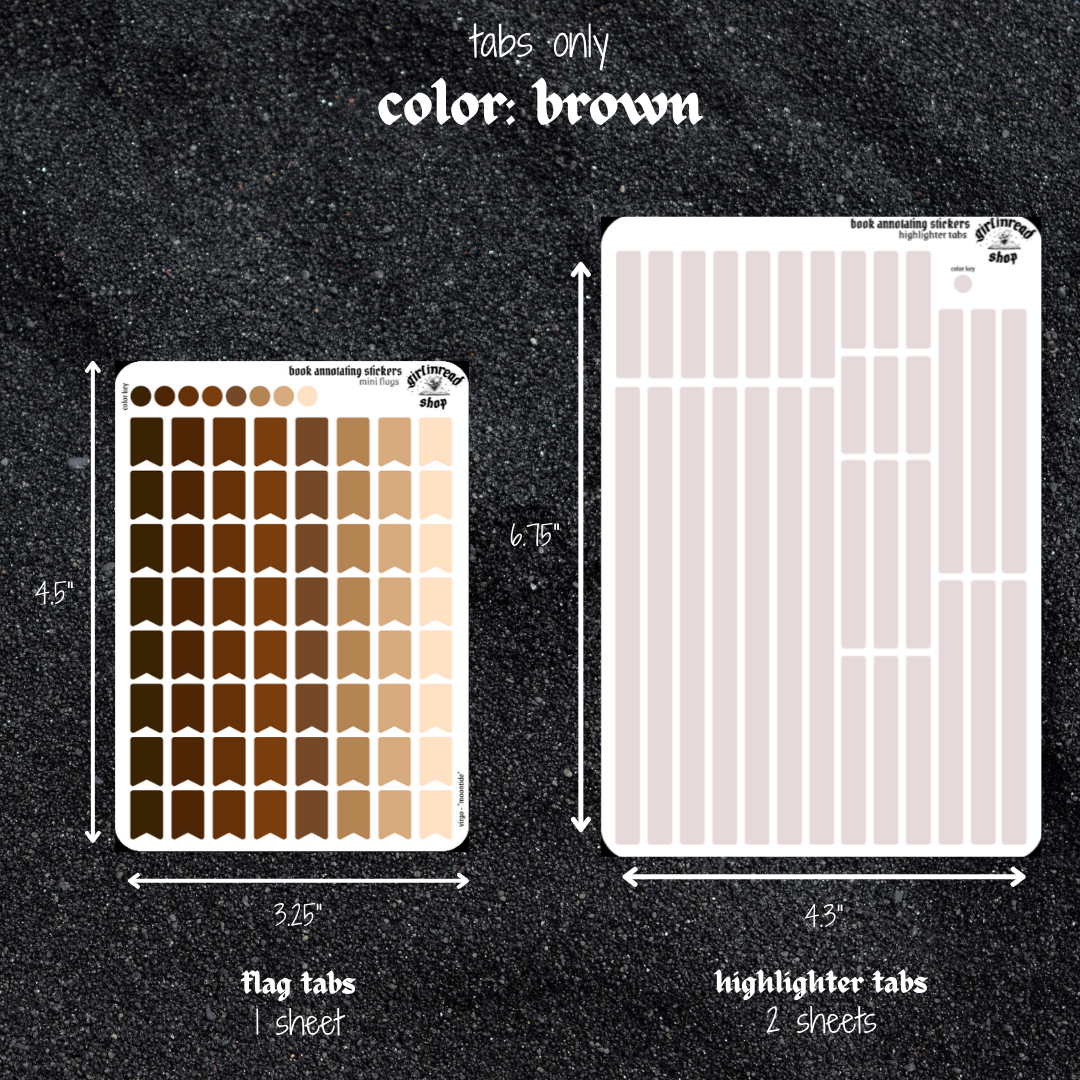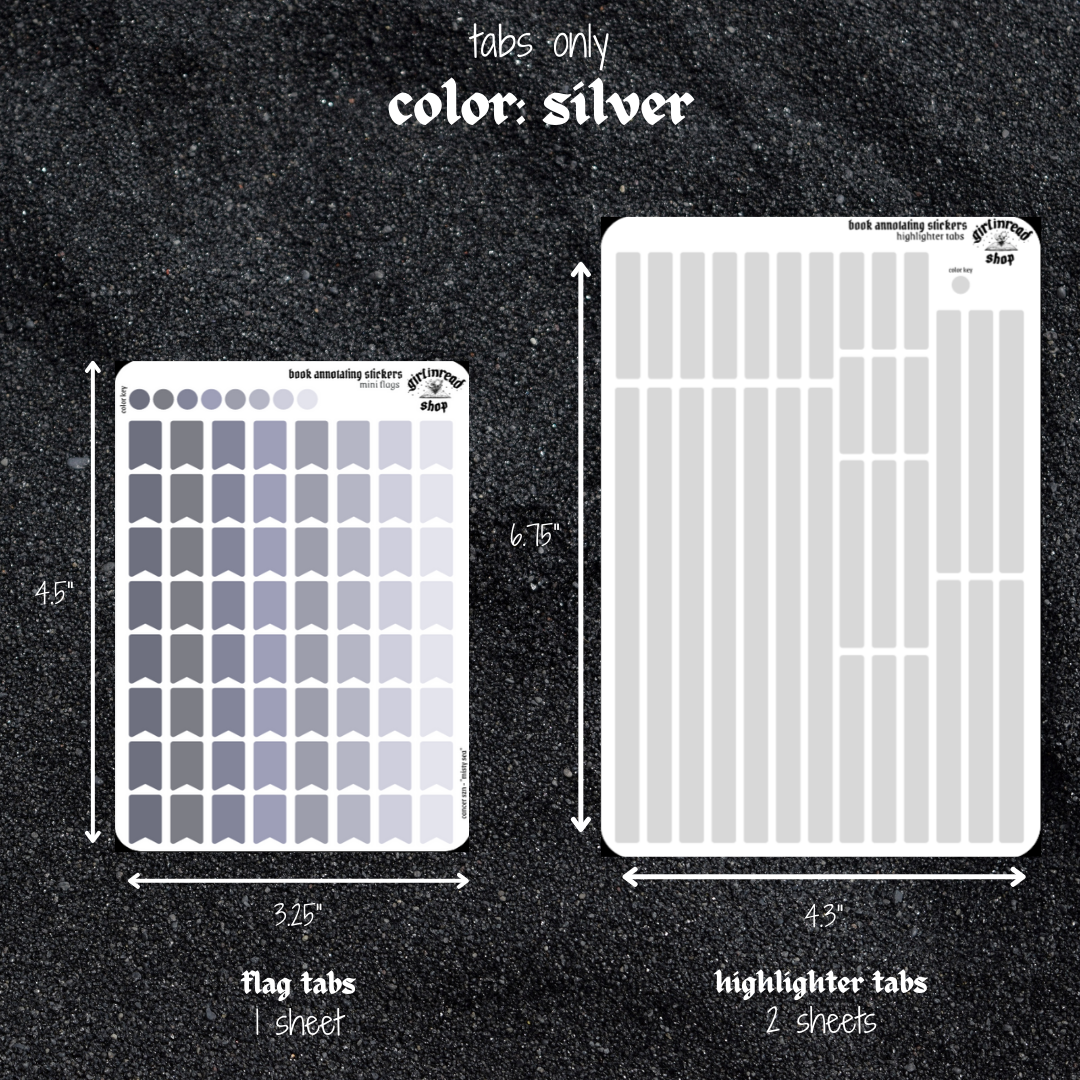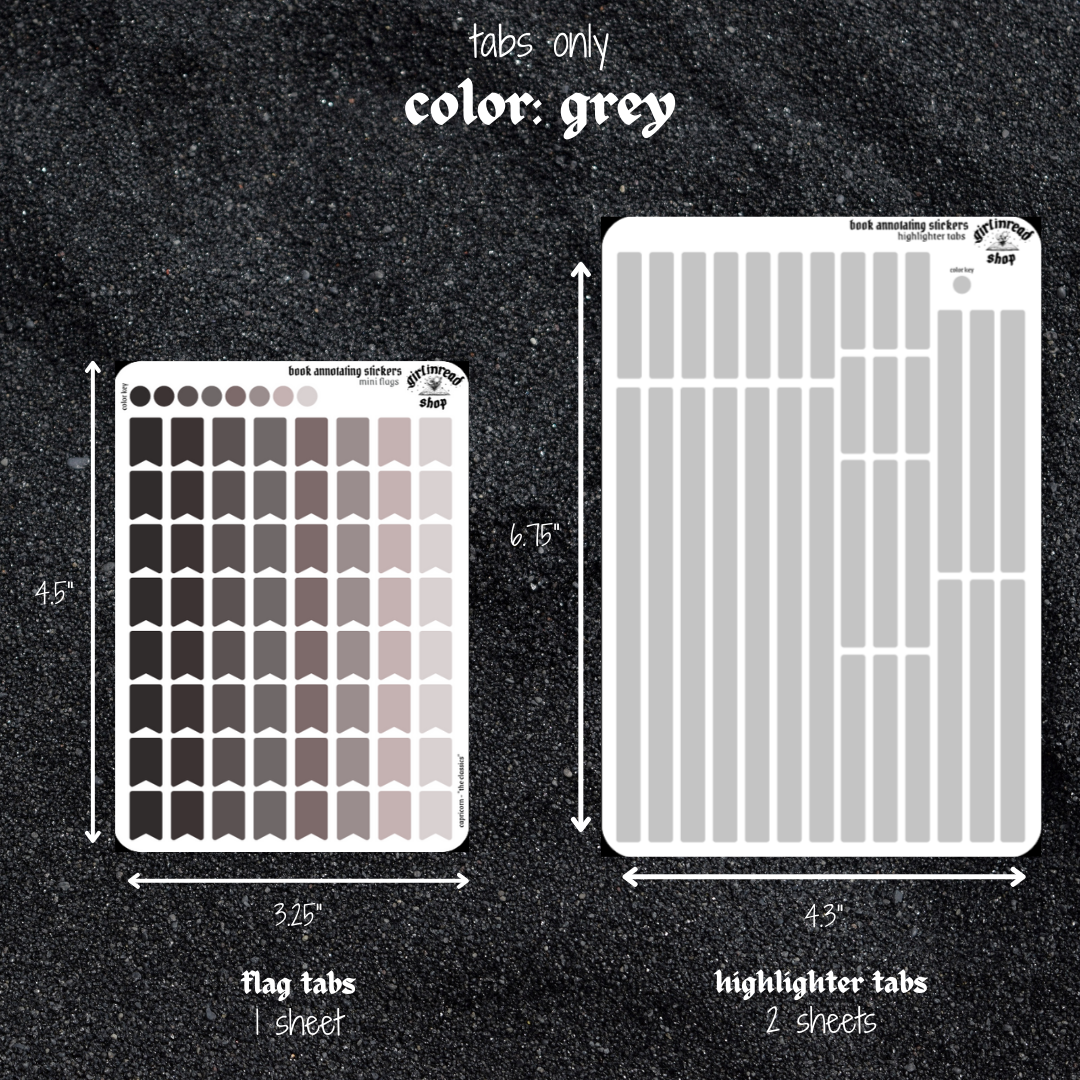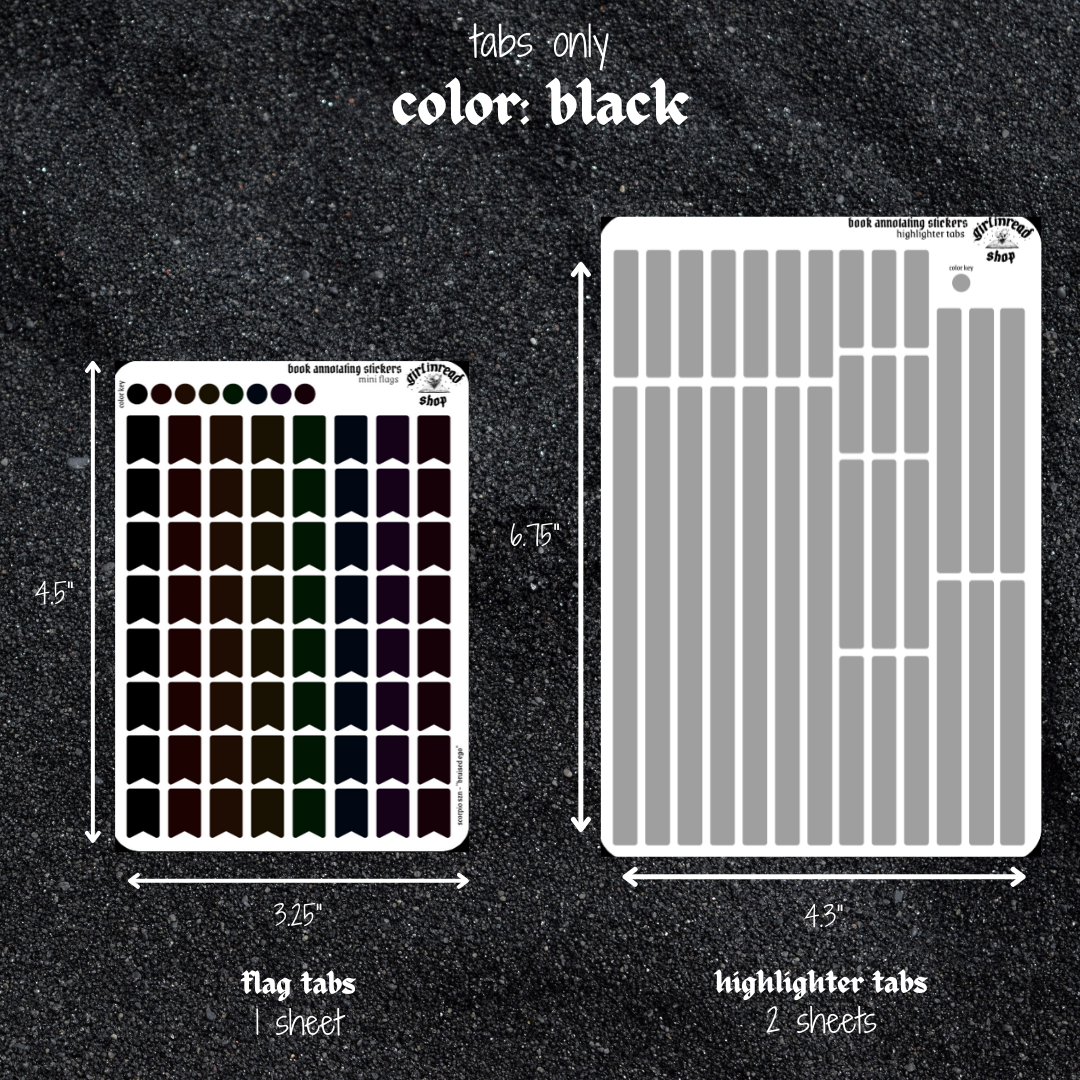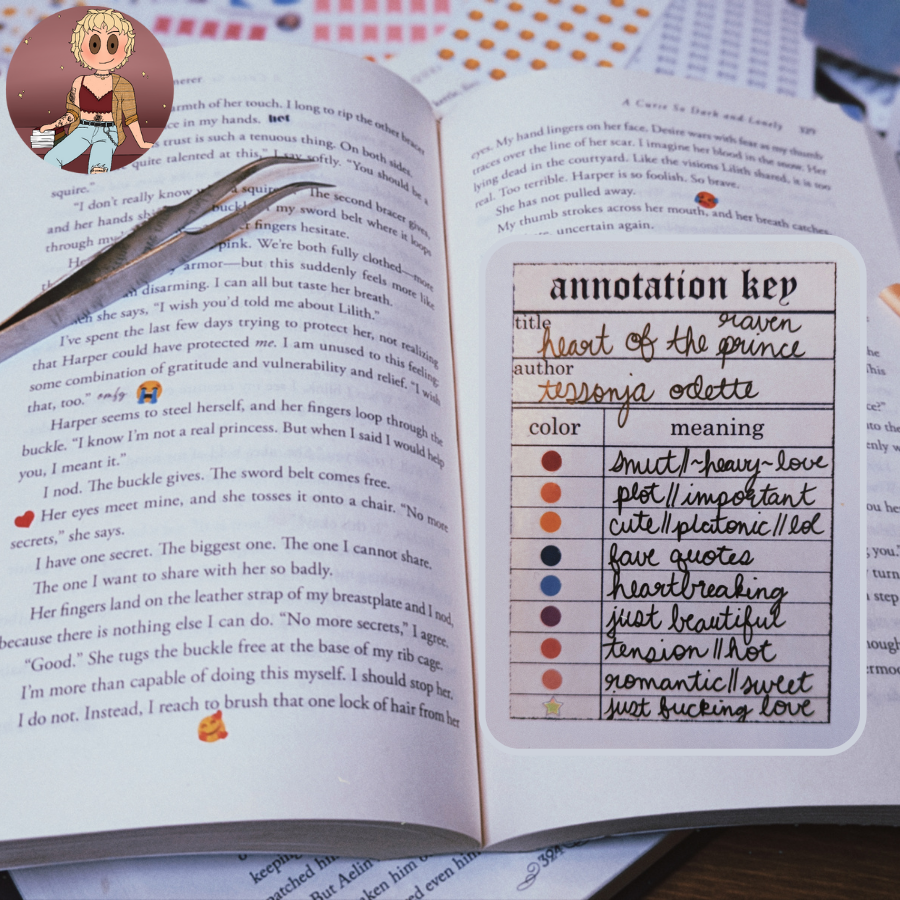 book annotating sticker guide
there is no right or wrong way to use our stickers but if you are looking for inspiration or a place to start, click the link below to see how we recommend annotating with our stickers & the color legend we use ourselves!
sticker guide